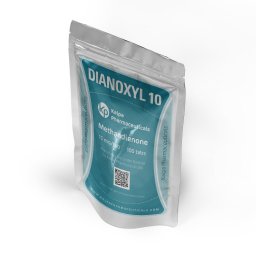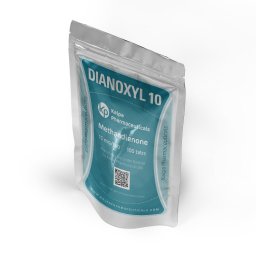 Detailed
Dianoxyl 10 by Kalpa Pharmaceuticals
Effective Dose for Men: 15-50 mg/day
Effective Dose for Women: 5-10 mg/day

Active life: 6-8 Hours

Aromatization: High

DHT Conversion: No

Liveri Toxicity: High

ACNE: Yes
Methandienone/Dianoxyl 10 mg is often compared to oxymetholone (Anadrol) when describing this compounds ability to make dramatic changes in appearance and strength. Methandienon is a very popular oral steroid used by both beginners and veterans alike.
By itself methandienone pills can produce noticeable results but used in conjunction with other steroids, as a part of a stack, is where this product really shines. It is not uncommon to have users report employing methandienone to "kick-start" a cycle of injectable steroids in order to see results quickly. Reported to have a synergistic effect on whatever compound(s) it is stacked with, methandienone can really be used at any point in a cycle. However, as an alkylated compound, users often keep the administration of methandienone to under eight weeks in order to limit potential liver problems.
Methandienone dosage per day 50 mg/day or less (typical doses range from 25-50 mgs/day for men although as high as 100 mgs/day is reported) there does not appear to be significant disruption of the HPTA or hypothalamic/pituitary/testicular axis. Methandienone use by women, even in low doses, can result in significant virilization and is therefore not usually recommended.
Most Popular Dianoxyl Cycle
Like most oral steroids Dianoxyl 10 is used in 2 to 5 weeks cycles stacked with some injectable steroid (Testoxyl Enantahte 250 or Cypionate 250).
Weeks 1 to 4 use Dbol 40mg per day and Enantahte/Cypionate 250 from week 1 to 10 with 2 ml per week. To keep more stable blood levels divide injections into two - 1ml Monday and 1ml Thursday, remmeber this is one of the most poular stack.
Methandienone Side Effects
Dianoxyl 10 side effects are certainly dose related with the frequency of occurrence and severity increasing correspondingly. Bloating, gynecomastia, acne, hair-loss, and elevated liver enzymes are all possible side effects along with disruption of the HPTA and HDL/LDL issues.
Once again, keeping the dose to a maximum of 50 mg/day for 6-8 weeks should limit the extent of side-effects experienced from this compound.
Reviews
Please log in to write Dianoxyl 10 review.