Aromasin, commonly known as exemestane, is a highly potent and valuable Aromatase Inhibitor (AI).
It effectively inhibits the aromatase process, reducing overall estrogen levels and protecting users from unwanted estrogen-induced side effects, especially when used in conjunction with anabolic steroids.
Additionally, Exemestane stimulates natural testosterone production, making it a popular choice for inclusion in Post Cycle Therapy (PCT) plans for steroid users.
Here, you will find a comprehensive list of Aromasin products containing Exemestane.
Filter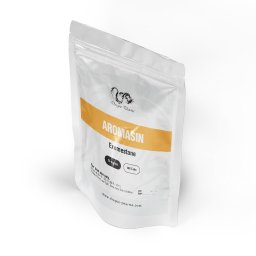 100 tabs - 25 mg
Manufacturer: Dragon Pharma
Substance: Exemestane
Pack: 100 tabs (25 mg/tab)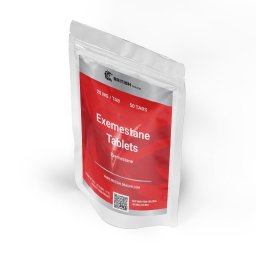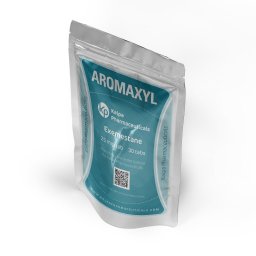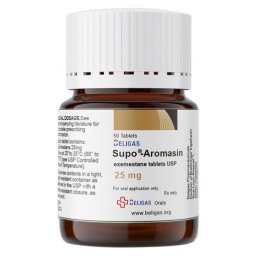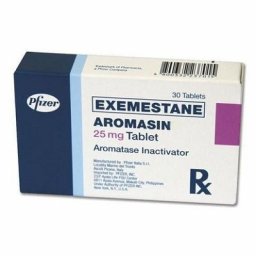 30 tabs - 25 mg/tab
Manufacturer: Pfizer
Substance: Exemestane
Pack: 30 tabs (25 mg/tab)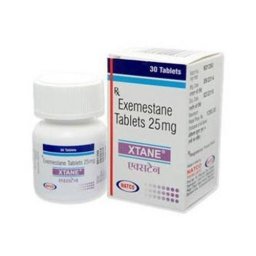 30 tabs - 25 mg/tab
Manufacturer: Natco Pharma, India
Substance: Exemestane
Pack: 30 tabs (25 mg/tab)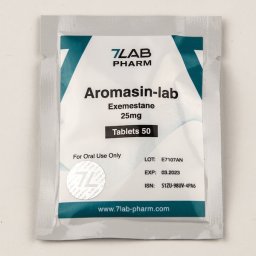 50 tabs - 25 mg/tab
Manufacturer: 7Lab Pharma
Substance: Exemestane
Pack: 50 tabs (25mg/tab)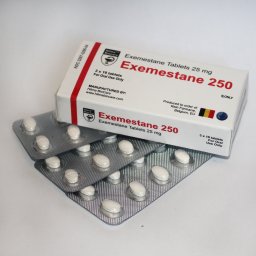 30 tabs - 25 mg/tab
Manufacturer: Hilma Biocare
Substance: Exemestane
Pack: 30 tabs (25 mg/tab)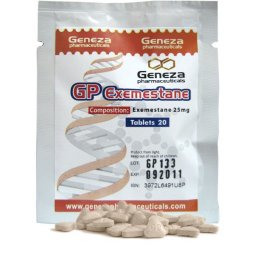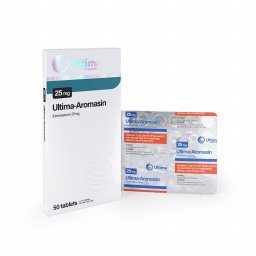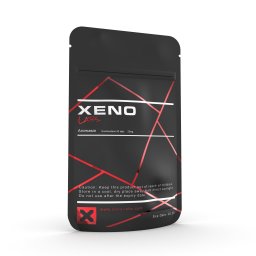 30 tabs - 25 mg/tab
Manufacturer: Xeno Labs
Substance: Exemestane
Pack: 30 tabs (25 mg/tab)
Aromasin (chemical name exemestane) is a medication used to treat hormone receptor-positive breast cancer in postmenopausal women. It works by blocking the effects of estrogen, particularly in breast tissue. This can help reduce the risk for cancer cells to grow and spread.
Aromasin belongs to a family of medicine called aromatase inhibitors (AIs). After menopause, your body stops making as much estrogen and instead makes more testosterone in your adrenal glands. AIs like Aromasin block this conversion from happening so that there's less estradiol (active form of estrogen) available for use by cancer cells.
In addition to treating certain types of breast cancer, doctors may also prescribe Aromasin off-label for other conditions such as gynecomastia or luteinizing hormone surges in men. Both related to excessive amounts of circulating estrogen hormones which can be affected by taking this medication.
A major advantage with using AI medications like Aromasin is that they don't cause liver damage. However, because it does inhibit the production of estradiol it has been associated with an increased risk for bone fractures among postmenopausal women who take it regularly. So make sure you get regular bone density scans if you're prescribed this medication!
Additionally, people allergic to exemestane or any ingredients found within the product should not use this medication. Also not should anyone who's pregnant or breastfeeding due to potential risks involved with taking these medications while pregnant/breastfeeding.
Aromasin Side Effects
There are also numerous possible side effects associated with taking Aromasin including:
joint pain/swelling,
insomnia,
hot flashes/night sweats difficulty breathing and others.
So make sure you discuss all potential risks and benefits involve before beginning treatment!
Where to buy Aromasin for Bodybuilding?
Are you looking to buy Aromasin, an estrogen blocker and aromatase inhibitor drug used in bodybuilding? If so, PandaRoids.to is an excellent and reliable option.
Aromasin is popular among bodybuilders who are looking to boost their performance with hormonal optimization.
You can find Aromasin for sale at Panda Roids without any prescription needed. Panda provide long expiry dates for drugs as well as secure payment methods such as Bitcoin or cash transfers through Western Union/MoneyGram making them a real and trusted provider that offers quality products produced by award-winning manufacturing brands like Dragon Pharma or Ultima Pharmaceuticals, Ryzen Pharmaceuticals (domestic shipping) among others.
Apart from offering legit steroids at affordable prices. We also guarantee speedy delivery times worldwide within a few days regardless of your location. Plus an excellent customer service department always willing to help you out if something goes wrong along the way during your purchase or shipping process!
Look no further — Panda Roids is the right place for you if buying Aromasin is what you need!