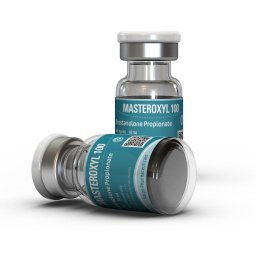 Detailed
What is Masteroxyl 100?
Masteroxyl 100 has drostanolone propionate substance. The active ingredient of drostanolone propionate is a synthetically manufactured anabolic androgenic propertisc steroid and a testosterone preparation (DHT derivative). Due to its antiestrogenic, anabolic androgenic effects, it has become extremely popular in the bodybuilder. Masteron is often combined with more anabolic agents in order to optimize your quality muscle building.
What can the Masteroxyl do?
Drostanolone Propionate is primarily androgenic, helping to eliminate water, prevent body fat build-up and work out hard. With these properties, the anabolic androgenic steroid is used especially in the final phase of the competition preparation to optimize the appearance and create a unique figure: clearly visible, bulging muscles and the strong visibility of the veins (vascularity).
Masteroxyl 100 Side Effects:
Hair loss, especially with people who are prone to male pattern baldness
Loss of emotional control
Acne, especially if you have experienced an increase in acne with the use of other steroids or androgens
Body Facial Hair
Cycle
Masteron propionate should be injected no more often than once a every other day for a beginner. Masteron enanthate should only be administered twice per week. And Kalpa Masteroxyl should be used at a maximum of 300 mg week. Masteron enanthate should be used at a maximum of 400-600 mg.
Related Links:
Reviews
Please log in to write Masteroxyl 100 review.