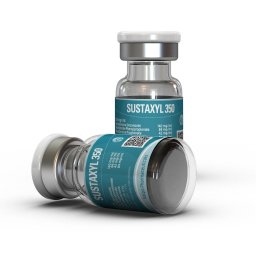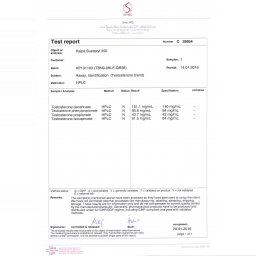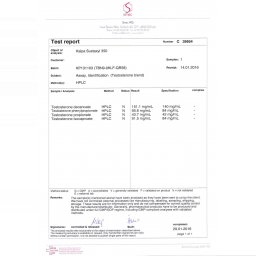 Sustaxyl 350
Manufacturer: Kalpa Pharmaceuticals
Substance: Testosterone Blend
42 mg of Testosterone Propionate
84 mg of Testosterone Phenylpropionate
84 mg of Testosterone Isocaproate
140 mg of Testosterone Decanoate
Pack: 10 ml vial (350 mg/ml)
⭐⭐⭐⭐⭐
Detailed
Although active in the body for a longer time, Sustanon 350 mg is usually administered on a weekly basis for muscle building purposes. This schedule will allow for the higher doses most commonly applied by athletes, and more stable elevations in hormone level.
The usual dosage among male athletes is in the range of 250-750 mg per injection, taken in cycles form 6 to 12 weeks in length. Use Sustaxyl 2ml/week to keep more stable blood levels injections can be divided into two: 1ml on Monday and 1ml on Thursday. PCT with Clomid starts 2 weeks after last Sustaxyl injection.
This level is sufficient for most users to notice exceptional gains in muscle size and strength. Some bodybuilders have been known to use excessively high dosages of this drug 1,000 mg per week or more. Although this practice is generally not advised due to the higher incidence of side effects.
Testosterone is ultimately very versatile, and can be combined with many other anabolic/androgenic steroids to tailor the desired effect.
Side Effects:
Testosterone Blend 350 it also has side effects like other injectable steroids. In the case of here persist elevated estrogen levels which causes side effects such as increased water retention, body fat gain. Kalpa Sustaxyl 350 is considered a moderately estrogenic steroid. Here we can use an aromatase inhibitor like Arimixyl which more efficiently controls estrogen by preventing its synthesis.
Estrogenic side effects will occur in a dose dependent manner. With higher doses (above normal therapeutic levels) of Sustaxyl 350 more likely to require the concurrent use of an anti-estrogen or aromatase inhibitor. Its moderate estrogenicity makes it more ideal for bulking phases. Where the added water retention will support raw strength and muscle size, and help foster a stronger anabolic environment.
Buy Sustanon 350 from our store and test us with small order.
Related Links:
Reviews
Please log in to write Sustaxyl 350 review.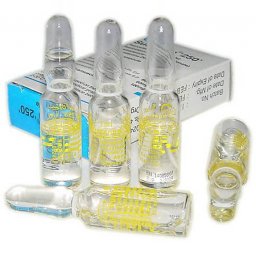 amp - 250 mg/ml
Manufacturer: Organon, Turkey
Substance: Testosterone blend
Pack: 1 ml amp (250 mg/ml)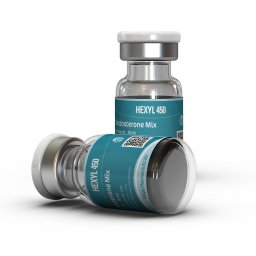 10 ml - 450 mg/ml
Manufacturer: Kalpa Pharmaceuticals
Substance: Testosterone Mix
147 mg Testosterone Decanoate
32 mg Testosterone Acetate
73 mg Testosterone Phenylpropionat
73 mg Testosterone Propionate
125 mg Testosterone Cypionate

Pack: 10 ml vial (450 mg/ml)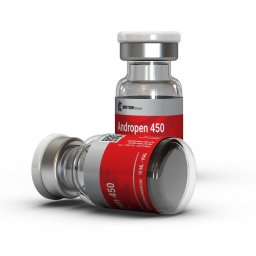 10 ml - 450 mg/ml
Manufacturer: British Dragon Pharmaceuticals
Substance: Testosterone Mix
147 mg Testosterone Decanoate
32 mg Testosterone Acetate
73 mg Testosterone Phenylpropionat
73 mg Testosterone Propionate
125 mg Testosterone Cypionate
Pack: 10 ml vial (450 mg/ml)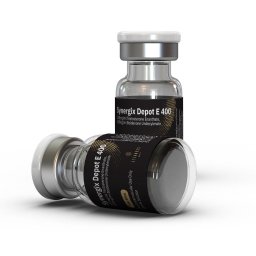 10 ml - 500 mg/ml
Manufacturer: Eternuss
Substance: Steroids Blend
200 mg of Boldenone Undecylenate
200 mg of Testosterone Enanthate
Pack: 10 ml vial (400 mg/ml)